Applications development
Since September 2017, I began learning to code and develop applications for Microsoft Windows. All of them are available on my GitHub page and are portable. The following is a list of applications I developed until now (March 2023):
Quick Picto Viewer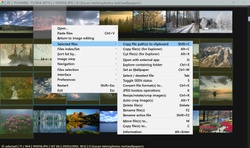 Project started in May 2019.
QPV is an image viewer and editor based on the GDI+ and FreeImage libraries. It can open about 85 image file formats. It is also able to create image slideshows and cache very large dynamic lists of files. Unlike other applications of this kind, it is much faster. It loads on my system a list of 500000 files in under 10 seconds, while XnView Classic or Irfan View needed more than 15 minutes at the time I tested it, in 2019.
Quick Picto Viewer is also able to play sound files associated with images, automatically or on demand, and even generate slideshows that are in synch with the audio files duration. Supported audio formats: WAV, MP3 and WMA.
QPV can also be used for casual image editing. It comes with support for freely rotated elliptical or rectangular selections and common image editing tools: transform selected area, paste in place, apply color adjustments, draw arcs, freeform shapes or lines, insert text, flip image, blending modes, alpha masking, soft edges blur area and so on.
As of November 2020, Quick Picto Viewer is still in active development, with features and improvements planned.
Related links:
KeyPress OSD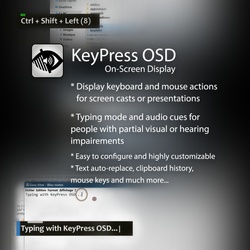 Project started in September 2017.
KPO is the first application I developed. I learned the basics of coding with this one. I developed it, because I needed something to help me see easier what I type in small text fields and help me use the computer easier.
KeyPress OSD v4 has numerous features and customization options. Please visit the official site to learn more, to try it and/or buy it.
Related links:
Church Bells Tower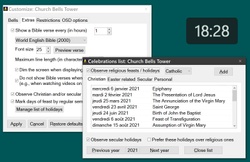 Project started in August 2018.
This is an application I dedicate to bell lovers and Christians. It can strike the bells as a church tower: every quarter or on the hour. It can also toll bells distinctively every six hours, eg., at noon or midnight.
In late autumn 2022, I implemented astronomy features. It can show when the moon and the sun rise and set. It can also display details about their current positions on the sky. Users can define their location on the planet by choosing from thousands of easy to search locations.
Church Bells Tower can also show Bible quotes daily, in French, Spanish or English, at easy to specify intervals, and remind users of secular or Christian feasts/celebrations. The days of feast can be marked additionally by semantron drumming.
Related links: