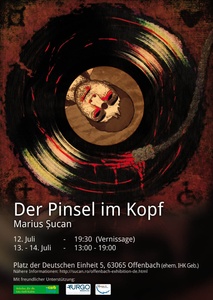 Hallöchen!
I am very proud to announce my first exhibition! It will take place in Offenbach am Main, Germany, from the 12th to 14th of July 2013! About 40 works were selected for this exhibition. Thanks to Daniel Schaaf and the sponsors for helping me have my first exhibition. If somebody is around Offenbach or wants to come to my exhibition, I would be very happy. I will travel there to welcome the visitors :).
I've been very busy over the past year, since I last updated my web site. I made a lot of new painted images since then. I will post them here soon as well. Until then, you can find them in my FlickR gallery or in my DeviantArt page.
I also finished the studies at the university and the thesis for my master's degree in Fine Arts at UVT, where I specialized in Painting.
More details about the exhibition
in the presentation page of "The Brush in the head".
Auf wiedersehen!